Return to Nav
AutoZone Auto Parts
Kerrville #1303
7:30 AM
–
10:00 PM
7:30 AM
–
10:00 PM
7:30 AM
–
10:00 PM
7:30 AM
–
10:00 PM
7:30 AM
–
10:00 PM
7:30 AM
–
10:00 PM
8:00 AM
–
9:00 PM
Hours of Operation & Services
Hours of Operation & Services
Day of the Week
Hours
Monday

7:30 AM

–

10:00 PM

Tuesday

7:30 AM

–

10:00 PM

Wednesday

7:30 AM

–

10:00 PM

Thursday

7:30 AM

–

10:00 PM

Friday

7:30 AM

–

10:00 PM

Saturday

7:30 AM

–

10:00 PM

Sunday

8:00 AM

–

9:00 PM
Nearby Autozone Locations
Things to Consider When Buying Auto Parts
When buying
parts for your car
, look for the phrase OE. This stands for original equipment, the quality standard of your original car parts. Duralast parts meet or exceed OE specifications, so you can install them with confidence. Next time you search "car parts near me" or "auto parts near me," be sure to stop by the closest store.
DON'T LET SUMMER GET YOU DOWN
Services Available at AutoZone Kerrville #1303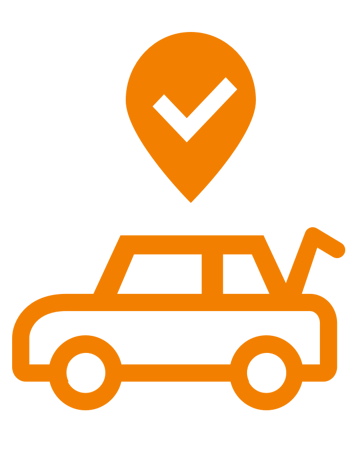 FREE CURBSIDE PICKUP
Same day pick up, now at your car.
Learn More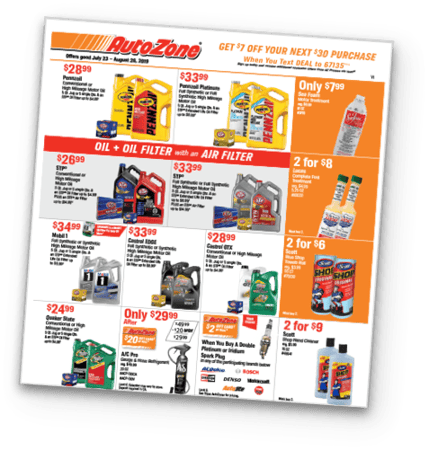 SEE CURRENT SPECIALS
Sign up to get special offers and savings!
Learn More
Frequently Asked Questions
Do you perform car engine diagnostics when a warning or check engine light is on?
Absolutely! If you have a warning or check engine light on, AutoZone at 200 W Main will troubleshoot the issue with our free AutoZone Fix FinderSM service. We'll provide you with a detailed report, whether it's a loose gas cap or something more serious, and recommendations for the most likely fix.

The service takes your vehicle's year, make, model and mileage, compares it with routine maintenance schedules and reads the diagnostic trouble codes from your vehicle's computer.

The information is analyzed with verified records from more than 5.5 million ASE-certified technicians. The free, custom result report includes diagnostic codes and recommendations for troubleshooting the likely cause and repair.
I want to return an item, but I lost my receipt. Can I return an item without a receipt?
To return an item without a receipt, contact AutoZone Customer Care Support at 1-800-288-6966 and ask for the transaction information for your order. This information can act as a replacement receipt. The customer representative will then explain the process for making your return.
Can you look up a warranty for my purchase? Where can I find my warranty?
Warranty information is stored in our national database and is connected to your telephone number. To check your warranty information, visit or call your local AutoZone store and we'll be happy to assist you.
Do you test parts like batteries, starters or alternators? Is there a charge?
Every AutoZone will test automotive batteries, alternators and starters for free. Batteries and alternators can be tested while still installed on the vehicle. Starters must be removed to be tested. Most stores can also test voltage regulators, control modules, coils, throttle position sensors (TPS) and other engine management components.
Does AutoZone install car batteries?
Battery installation is a courtesy service offered depending on type of vehicle, ease of installation and employee availability. If battery installation requires dissembling part of the vehicle or the battery is particularly difficult to reach, we'll gladly refer you to a qualified professional you can trust. Click here to find a repair shop near you.

We also have a DIY guide available to help you in the process of installing your car battery on your own.
Do you replace windshield wipers?
AutoZone has a wide range of wiper blades available to fit your vehicle and improve your visibility on the road. Wiper installation is offered as a courtesy service based on employee availability.
Will AutoZone replace my headlight bulb?
Bulb replacement for headlights or taillights is offered as a courtesy service depending on vehicle, type of bulb, and employee availability. If bulb replacement requires disassembling any part of the vehicle, we'll gladly refer you to a qualified professional you can trust. Click here to find a repair shop near you.

We also have a DIY guide available to help you in the process of changing out your bulb on your own.
Does AutoZone deliver? Can I get home delivery for parts?
Most items sold on AutoZone.com can be delivered directly to your home or business via FREE Next Day Delivery or standard shipping. More than 100,000 items are available for FREE Next Day Delivery in most parts of the country. FREE Next Day delivery requires a $35 minimum purchase.

Certain chemicals are not available to be shipped but can be picked up at an AutoZone near you. If your items you are not available for delivery, you can buy the item online and pick it up at a nearby store.
About
AutoZone Auto Parts
Kerrville #1303
Welcome to your nearby AutoZone auto parts store in Kerrville, TX at 200 W Main. Your go-to destination for quality auto parts, do-it-yourself repair advice and tools, and everything you need to keep your car, truck or SUV running smoothly.

Every AutoZone in Kerrville, TX offers free in-store battery testing, battery charging, our Loan-A-Tool® Program and Fix Finder - a simple Check Engine Light tool that utilizes an extensive database from ASE certified mechanics to find the most likely fix.

Whether you're shopping for brakes, batteries, bulbs or wiper blades, make sure to use your AutoZone Rewards account every time you shop online or come into the store. We'll give your account a $20 reward after five purchases of $20 or more. It's our way of telling Kerrville thanks for trusting AutoZone.